Handler and Canine Deployment Survey
Lori E. Gordon, DVM
MA-TF1 US&R
Executive Summary
Survey response of 100% of FEMA US&R handlers is notable, and reflects the importance of the information to the Handlers as well as dedication to their Search Canines. This also increases accuracy of the data, which relies on human recall and memory in the absence of official deployment documents and medical records.  Efforts to make these documents available would further increase data accuracy and make a more reliable platform from which to make system recommendations.
Medical aspects of canines at deployments are the primary reason the author has undertaken creating surveys and reports to disseminate within the system. Dehydration and wounding, then lameness and diarrhea, have been the most common conditions experienced by Search Canines at missions to the Haiti Earthquake (2010), Joplin Tornado (2011), Sandy Hurricane (2012), and now seen at Moore Tornado response. Emphasis in preparation, medical training, planning, and cache drugs, supplies, and equipment needs can be based on these real life problems.
Decontamination awareness for the canines has been embraced by the system, as evidenced by K9 decontamination procedures on 100% of system canines and approval for decontamination kits in the cache. Concern remains with having wet canines in a rapidly cooling environment. Despite day temperatures in Moore in the 70's and 80's (Fahrenheit), some evening temperatures dipped down to the low 50's. It takes several hours for some canines to completely dry, and their ability to retain warmth is greatly diminished. Adding dehydration and energy loss from shivering makes the situation worse. They need rest and regeneration to be at top performance for the next shift, as we do. Towels, blankets, shelter, warmth are options to be emphasized.
Proper preparation is aided by weather predictions at the briefing before each shift. Briefings and debriefings and the passing of information from shift to shift and day to day are a vital part of increasing safety and Hazard awareness. Above and beyond the expected concerns for a certain event are always things that have not come up before. Wet clumps of spilled pills seen in Moore that a canine steps into may be absorbed and wreak havoc on them. Lack of vigilance about absorption of chemicals through the paw pads lead to liver and kidney illness in 2 canines at Joplin. Despite K9 booties in the cache and training in booties, I have never seen nor heard of them being used at deployment. Perhaps they should be considered more often.
The chlorine dioxide decontamination solution carried by TX-TF1 has reportedly been 'vetted' through the military system, and is used for Military Working Dog canine decontamination. It may be worth investigating as a system-wide cache item.
FEMA modular aspects were experienced with deployment of one HRD canine per team. There will be need for education on how to best utilize this FEMA resource for those who have not worked with them before, and certification standards and testing guidelines are nearly complete.
Communications and sharing resources like veterinary care with other rescue teams is a mutually beneficial endeavor. SUSAR standards are very similar to US&R, so we should be able to work well together, and continue nurturing this relationship.
Introduction
This is the fourth in a series of reports (2010 Haiti Earthquake, 2011 Joplin MO Tornado, 2012 Hurricane Sandy) based on data collected from a Handler and Canine Deployment Survey sent by the author.
Information acquired from this and all prior data guides future policy recommendations made to the FEMA Working Groups, Operations Group, and ultimately the Program Office. Pre-mission training, planning, cache items, decontamination, and medical/veterinary preventative measures and needs can be stream lined and emphasis placed on actual deployment experiences.
Of particular interest is for the first time in a multi-team mission, Program Office approved deployment of Human Remains Detection canines, one per FEMA US&R Task Force deployed (NE-TF1, TN-TF1, and TX-TF1). In addition, Oklahoma Task Force 1 SUSAR teams from Oklahoma City and Tulsa were included in the study.
Information Collection
A survey was sent out electronically to all handlers that deployed with FEMA US&R teams in response to the tornado in Moore, Oklahoma. In addition, OK-TF1 teams (one from Oklahoma City one from Tulsa) deployed to the same area were included in the survey.
Questions included handler experience, canine signalment (breed, age, gender) and experience, their transportation and billeting, physical examinations performed, work shift information, injuries and illnesses incurred, decontamination procedures, and briefing details. The handlers were invited to give comments, and make recommendations to address issues.
Brief History
A category EF-5 (Enhanced Fujita scale) tornado touched down at 14:56 hours 4.4 miles west of Newcastle, OK and ended 4.8 miles east of Moore, Oklahoma. The tornado's ground travel was 39 minutes long, yielding an approximate tornado path length of 17 miles (27 km) and a width of 1.3 miles (2.1 km) at its peak, passing through a heavily populated section of Moore, OK.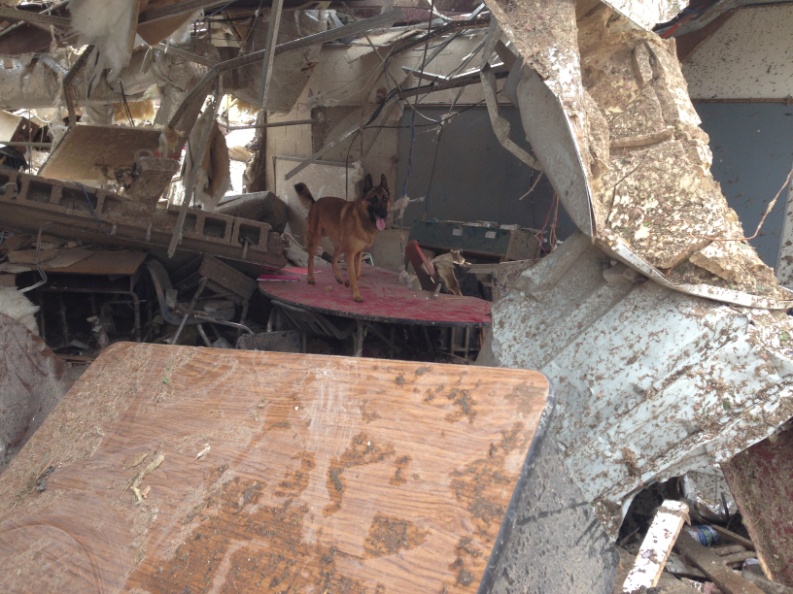 Definitions for Reference
Mean = the average; the numbers are added and then divide by the number of numbers
Median =  the middle value in the list of numbers
Mode = the value that occurs most often; if no number is repeated, there is no mode
Range = is the difference between the largest and smallest values
Abbreviations
CE – Certifying Examination
DVM – Doctor of Veterinary Medicine
FCP – Fractured Coronoid Process
FEMA – Federal Emergency Management Agency
HO – Hypertrophic Osteodystrophy
HRD – Human Remains Detection
IPWDA – International Police Working Dog Association
LF – Live Find
MO – Missouri
NASAR – National Association Search and Rescue
NSAID – Non-Steroidal Anti-Inflammatory Drug
OCD – Osteochondrosis Dissecans
OK – Oklahoma
OKC – Oklahoma City
PE – Physical Examination
STM – Search Team Manager
SUSAR – State Urban Search and Rescue
TF – Task Force
UAP – Ununited Anconeal Process
US&R – Urban Search & Rescue
Thank You
Despite attempts at making the survey brief, with many 1-2 word responses and skipping over others when the answer was no, it requires precious time out of the lives of very busy people. For that I wish to thank all who participated in the survey, as well as those who encouraged you on my behalf to do it!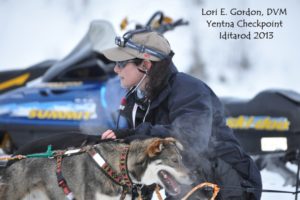 DATA SUMMARY with COMMENTS and RECOMMENDATIONS
Comparison data to the 3 prior surveys (Haiti Earthquake 2010, Joplin, MO Tornado 2011, and Sandy Hurricane 2012) are included where relevant.
Handlers
The FEMA US&R Handler response to this survey was 100%. This is increased from a 73% response for Hurricane Sandy (2012) and a 58% response for Haiti Earthquake (2010). The Joplin, MO tornado survey (2011) although not a FEMA deployment, also had 100% response from handlers, many of who were FEMA TF members. SUSAR Handler response, 70%, is still far above the average.
According to Survey Gizmo, internal surveys will generally receive a 30-40% response rate or more on average, compared to an average 10-15% response rate for external surveys. Response rates can soar past 85% when the respondent population is motivated and the survey is well-executed.
Despite efforts to create the perfect survey, there are inherent errors that cannot be avoided. Some response information relies on the subjective nature of human memory, perception, and recollection unsubstantiated by objective facts.
Recommendation: Methods to improve data accuracy include acquiring daily 214 Unit Logs, medical records, and timely response to the survey, as well as improving the survey itself with respect to length, questions, design, and ease of responding.
Team membership was nearly identical for FEMA and SUSAR Handlers, with an average of 7.5 years and the majority on teams for between 5-8 years. This is comparable with the Joplin Handlers who averaged 7 years with their team, whereas Sandy responders averaged more than 9 years.
Search Canines
The majority of both FEMA and SUSAR Handlers had deployed before (67% and 86% respectively. For the majority of FEMA search canines, however, this was their first deployment (56%). In total for all teams it was split nearly 50:50 for first versus prior deployments for the search canines, though most of their handlers had deployed prior. Just over one fourth of the FEMA Handler-Canine Teams were both on their first deployment.
Anecdotally, FEMA and other first responder deployments seem to be increasing. This may be due to a combination of an increase in severe weather events, expansion of missions to which FEMA is capable of responding, and other factors.
As missions increase, so does the experience of handlers. Since canines' working years are more limited, it follows that the survey reveals more first deployments for canines as compared to handlers
Tremendous strides in breeding, selection, and training have made even the less experienced canines a proven asset in search operations as seen during the Haiti mission.
Labrador Retrievers were most numerous of survey deployed canines in this (FEMA 69%, SUSAR 86%) and all previous surveys (Haiti 43%, Joplin 43%, Sandy 61%). Only in Haiti did another breed come close: 10 German Shepherds deployed compared to 11 Labrador Retrievers. It follows that the majority of weights fall between 50-75 pounds (23-34 kg).
Medical cache supplies, equipment, and medication can be tailored as to the strengths, amounts, and sizes needed to adequately treat the canines
From a veterinary medical perspective, this information brings to light the need to educate ourselves on illness and injury common in deployed breeds (Cruciate Ligament injury, Laryngeal Paralysis, Stress Colitis, Gastric Dilatation-Volvulus Syndrome, etc.) above and beyond that which is directly related to the deployment conditions including terrain, weather, and the mission.
Recommendation: the canine portion of the Medical Search Specialist Course emphasize common illness and injury in the breeds most deployed in addition to the most common illness and injury experienced during these missions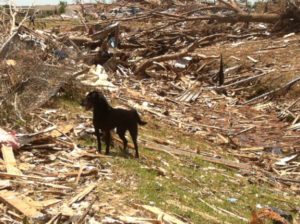 TN-TF1 K9 Jetta. Photo Courtesy of Kari Bruce, Handler
Other aspects regarding canine signalment is age and gender. For age, the general range for all 4 prior surveyed deployments is approximately 2 years old to 9, 10, and 11 years old. These are out-lyers, in that the most common age for the 3 prior and this survey is 5.5 to 7 years old.
This data suggests we can place the common juvenile bone and joint disease (Panosteitis, HO, UAP, FCP, OCD) of young (< 1 year old) Retrievers and Shepherds very low on any diagnostic list for lameness
Additionally, increased knowledge and vigilance for less expected conditions (liver disease, kidney disease, cancer) seen in older canines (> 7 years old) is warranted despite their seemingly athletic condition
Regarding gender, in Haiti and this Moore study neutered males were the majority of deployed canines (65% and 75% respectively). Spayed females topped the list in Joplin (43%) with neutered males a close second at 36%. Sandy was different, with intact males the vast majority (48%) and intact females a close second (24%).
For Moore, potential conditions related to intact males and females was minimal (only one intact male of the 23 canines)
Review of the past 3 surveys reveals the need to maintain vigilance for conditions specific to non-neutered and non-spayed canines (false pregnancy, pyometra, prostatitis, testicular torsion, etc.)
Recommendation: the canine portion of the Medical Search Specialist Course emphasize common illness and injury in intact males and females in addition to the most common illness and injury experienced during these missions
This deployment had authorization for one HRD canine be deployed with each Task Force. They all have a bark alert, although in many other disciplines a sit or down is a common alert. HRD canines had a variety of certifications that exist throughout the country.
Standardizing certification for system canine deployability is one of the pivotal events in FEMA US&R history that elevated the capabilities and expertise of both handlers and canines within the system
Deployed HRD canines were certified by a nationally or internationally recognized association of search and rescue
The K9 Subcommittee is currently in the process of standardizing certification for HRD system canines in response to the modular deployment annex
Comments on the deployment of an HRD canine are addressed at the end of this section
To read and/or download the rest of the survey click –>here<–