Canine Illness and Injury Report
Lori Gordon, DVM
INTRODUCTION
This is the sixth in a series of reports dedicated to documenting the illnesses and injuries incurred by search canines on deployment. A survey was sent to each of the handlers, medical records collected, and post-mission test results made available for review. Prior deployment information collection thus far includes the Haiti Earthquake (2010), Joplin Tornado (2011), Hurricane Sandy (2012), Moore Tornado (2013), and Colorado Floods (2013).
Although each deployment is unique, patterns of data are emerging. Similar illness and injury occurrence are also seen when these reports are compared to data from the Oklahoma Bombing and World Trade Center urban disaster incidents. This data provides insight into the medical and supportive needs of our search canines, allows for tailored medical training, and streamlining of the cache in the form of medications, supplies, and equipment.
The mission to the Oso, Washington Mudslide is unique in several ways. This is the first time Canine Search Teams for Human Remains Detection (CST-HRD) were deployed as a modular unit, involving 22 teams from 10 FEMA US&R teams, deploying without their home Task Forces (TFs). It is also the first time the Incident Support Team Veterinary Officer (IST-VO) was successfully deployed (an earlier activation to Haiti was unsuccessful). The disaster itself was a landslide of unprecedented size and scope, presenting multiple challenges for search operations at all levels, including the potential for more slides in and around the search areas.
For the first time there are detailed medical records available for review, written documentation of findings and treatments. Local veterinary presence via the Washington State Department of Agriculture Reserve Veterinary Corps (WSDA-RVC) was established throughout the mission, providing veterinary and logistical support initially to local canine search teams, then to the FEMA Search Teams. There are also post-mission canine tests available for evaluation, (US&R Program Directive 2014-006 – Washington Mudslide Response Post-Mission Medical and Veterinary Screening) revealing other less obvious conditions search canines may have contracted during their deployment.
Landslide Occurrence
On Saturday, March 22, 2014, a massive landslide occurred 4 miles east of Oso, Washington, at the southeastern edge of Whitman Bench, a land terrace about 800 feet (240 m) above the valley floor consisting of gravel and sand deposited during the most recent glaciation. The initial collapse began at 10:37:22 a.m. local time (PDT; 17:37:22 UTC), lasting approximately 2.5 minutes. Debris loosened by initial collapse is believed to contain material previously disturbed and weakened by a 2006 slide.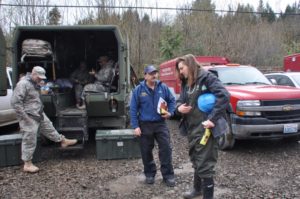 Following the initial event was another large slide occurring at 10:41:53 PDT. Additional events, most likely smaller landslides breaking off the head scarp, continued for several hours. The last notable signal came at 14:10:15.
The collapse sent mud and debris across the North Fork of the Stillaguamish River, engulfing a rural neighborhood known as Steelhead Haven 4 miles east of Oso, engulfing 49 homes and other structures.  The mud, soil and rock debris left from the mudslide covered an area 1,500 feet (460 m) long, 4,400 feet (1,300 m) wide and deposited debris 30 to 70 feet (9.1 to 21.3 m) deep.
The slide blocked the North Fork of the Stillaguamish River, causing it to back up eastward, leading to extensive flooding upstream as well as blocking State Route 530, the main route to the town of Darrington (population 1,347), approximately 15 miles east of Oso.
HRD Modular Deployment Timeline
Twenty FEMA US&R Canine Human Remains Detection Teams were activated April 2, 2014, Day 12 of the incident, from 9 Task Forces (AZ-TF1, CA-TF5, FL-TF2, MD-TF1, NY-TF1, OH-TF1, TX-TF1, UT-TF1, and VA-TF1). They began search operations April 3, Day 13 of the incident. WA-TF1 had 4 K9s working Live Find, 2 of whom were in training for HRD and also searched in that capacity. Two additional FEMA US&R Canine HRD Teams (NY1, FL1) were activated April 20, Day 31 of the incident, and began search operations the next day.
The IST Veterinary Officer (IST-VO) was activated on Day 14 of the incident, arriving April 4 and registering at Incident Command Post in Arlington. On April 5, after several briefings, the IST-VO relocated to the BoO at the Fairgrounds with WA-TF1 to begin hands-on canine medical care that evening. At this time 41 of 54 missing persons had been rescued or recovered.
Timeline
April 2nd: 20 CST-HRD Teams activated
April 3rd: Blue IST activated, CST-HRD Teams arrive, some operational this day
April 4th: Blue IST members arrive
April 5th: Blue IST briefings, tour of incident site, shadow White IST
April 6th: Blue IST assumes responsibilities, integrated with Type-2 IMT
April 7th: White IST demobilized
April 10th: 2 CST-HRD Teams demobilized; 18 teams remain
April 16th: 14 CST-HRD Teams demobilized, 4 remain
April 18th: 2 CST-HRD Teams demobilized, 2 remain
April 20th: 2 additional SCST-HRD Teams activated; 4 now present
April 23rd: Last 4 CST-HRD Teams and remaining Blue IST members demobilized
Search Area Conditions
Canines were asked to search several types of terrain, which included flat areas of mud and debris, 5 to 15 foot hills of mud, woodlands, and pools of water. The mud ranged from a consistency of thick soup to piles of clay-like clots. Handlers sank from their knees to hips, occasionally requiring help in getting out. The debris within the mud included trees and brush, twisted metal, glass, wood slats, clothing, trash, and rotting food. Debris was often visually undetected as it was covered in the thick mud.
Weather (See also Appendix)
From April 3-22, 2014
Average day temperature 58oF, range 51oF – 71oF
Average night temperature 40oF, range 32oF – 46oF
It rained 7 of those days, rainfall total 1.15 inches
Winds averaged 5 mph, with a range of 0-26 mph
Executive Summary
Survey response of 100% for handler information, 100% response for canine information, gives the data strong validity. Twenty four of 25 responses were received within 1 month of demobilization, adding to the accuracy of the answers.
Deployment Experience – Handlers and Canines
Most handlers have been FEMA team members for 6 years, and the majority (15 of 25, 60%) had deployed before. In contrast, this was a first FEMA deployment for the majority of canines (20 of 25, 80%) although 2 of those had deployed with another team. Since the approval for HRD canines was very recent, this is not surprising. More than half of them were also certified by other organizations before their FEMA certification.
Comment
Two FEMA LF certified canines were being cross-trained in HRD. They were deployed as a state asset and used in search operations per their team. Cross-training is not common in the FEMA system however they performed well in the field.
Canine Signalment
Labrador Retrievers continue as the majority breed. Most of the canines were neutered males, most were between 4 and 8 years of age, and most weighed in an average of 50-80 pounds.
BoO, Billeting, Transportation
The Incident Command Post was about 1 hour drive from the BoO at the Darrington Bluegrass Music Park, but cell phones and daily video briefings at the MERS truck allowed for continued communications between these two bases. Billeting was close enough to the search areas to avoid long drives, and transportation was timely and abundant. CA-TF7 and WA-TF1 were outstanding in hosting the modular teams and the IST Veterinarian.
Deployment Length
Without exception, every handler was willing to remain beyond their obligated days of deployment. All were happy to stay with the hope of bringing closure to every single family member and friend of those still missing.
Comment
Two handlers that were deployed for 16 days were not allowed to remain the additional 4 days that were requested due to concerns by their program manager about the level of support. Federal host Task Force CA-TF 7 had already demobilized, and state host Task Force WA-TF1 was leaving the next day. There were some difficulties initially with local organizations tasked with our support. They were addressed, but it was decided to move closer to the IST and ICP. If at all possible, support for FEMA Canine Search Team operations should remain with FEMA-based personnel, who are trained and experienced with the needs of our group.
Search Operations
Initially the canines were searching for extended periods in the cold and rain, with little rest and no place to adequately recover when they did rest. Rescue personnel, Search Team Managers, and local personnel quickly adjusted to shorter, more frequent searches. As search areas became more specific, half-day shifts were incorporated to a degree. Also, crates were acquired and warming vests purchased to increase search operation efficiency and extend the capabilities of the canines to work productively throughout the shift.
Comment
Willingness to adjust search operations went far in elevating the canine capabilities to perform their work at peak efficiency. The creation of divisions and corridors that defined search areas was paramount in creating a well-defined mission and accountability.
Veterinary Care
The search canines received multiple physical examinations and on-site care for their injuries and illnesses between the IST Veterinary Officer (136 recorded exams) and the WSDA Reserve Veterinary Corps (117 recorded exams). Pre-shift, shift, post-shift, and demobilization exams were performed for 96%, 100%, 100%, and 96% of the canines respectively. The need for this level of care can be appreciated with review of the injury and illness data.
Comment
The size of debris field operations and transportation issues of reaching 3 main sites (East Division 1 and 2, Mid-Division 4 and 5, West Division 6 and 7) made it challenging for the IST-VO to be present for every canine at every site. The WSDA-RVC Veterinarians and Veterinary Technicians provided on-site care while BoO canine care was occurring each morning, as well as staffing all 3 areas each day. They also provided almost instantaneous logistical needs for veterinary supplies, equipment, and medications that the task forces and IST could not obtain as quickly.
Comment
The reserve Veterinary Corps Veterinarians were made up of large animal, equine, state, and local small animal Veterinarians and Veterinary Technicians. As the IST Veterinarian I gave some just-in-time training talks and they were attentive and eager to learn about veterinary care specific to search canines. Their staff was hard working, supportive, and eager to help. Issues did arise, and they were handled by me and the RVC Coordinators as stated in the After Action Report.
Injuries and Illness
All of the search canines incurred injury and/or illness, ranging from mild to concerning. Pad and limb injuries were most common. Dehydration, dietary indiscretion, and weight loss were the common medical issues. All were addressed in a timely manner so that there were very few instances when a canine could not perform search operations.
Comment
Bandaging injured paw pads became very important in stopping lameness and pain. The neoprene vests were able to keep the canines dry and warm in wet and rainy conditions. The use of 'bandage boots' and vests did not interfere with nor pose a hazard (slipping, catching on debris) to the canines during search according to the handlers.
Post-Deployment Testing
Abnormal blood, urine, and fecal test values were revealed for 3, 6, and 4 canines respectively. It is unknown if some of these values and results were present before the deployment, as it is impractical to run blood, urine, and fecal tests just before deploying. The canines were constantly exposed to a potentially hazardous environment, and these tests have already provided the means to investigate the abnormalities and treat them early.
Decontamination
The National Guard provided state-of-the-art decontamination for the canines in their Mass Decontamination Units (MDUs). Considering the weather conditions, the warm water may have been a key factor in staving off hypothermia in these canines.
Comment
Warm water in cold weather, cool water in hot weather, are both important considerations when performing decontamination on canines. The dish soaps used soon created dry, itchy skin which can be distracting to the canines. Also, scratching caused skin wounds, at least one of which became infected. The purchase of dog shampoo to re-establish coat oils is recommended to include in every decontamination cache.
Safety Briefings
Communicating information related to safety is extremely important. The Search Team Managers for the handlers hosted by WA-TF1 held a handler meeting each night to debrief the days' events and brief for the next days' schedule. The IST-VO visited the handlers hosted by CA-TF7 to relate all known safety issues so everyone was aware of these concerns.
Comment
Separate briefings from the ones held for the entire Task Force were helpful in relating specific concerns for the canines and handlers and assuring everyone was aware of them. This is recommended for future deployments.
Handler Comments
Specific handler comments are included for review. They were asked to comment but specific issues were unsolicited and remain unedited. They have been grouped according to subject. Concerns are italicized.
IST Veterinary Officer Comments
FEMA's recent approval for missions beyond the long-standing traditional urban search and rescue mission has proven to be a needed response capability. Having in place both the Humans Remains Detection Modular Deployment model (approved 2013) and the IST Veterinary Specialist position (approved 2009) allowed for rapid, smooth deployment of assets to the Oso, Washington Slide disaster once the mission was approved.
My position as the IST Veterinary Officer was, in theory, to involve both managerial and operational duties. This proved to be the case. On-site presence allowed for immediate response to injury and illness care needs. Providing adequate medical care for the search canines also involved the host Task Forces CA-TF7 and WA-TF1, Washington State Department of Agriculture Reserve Veterinary Corps, National Guard, and of course the IST.
Support for my mission from CA-TF7, WA-TF1, Washington State Department of Agriculture Reserve Veterinary Corps, National Guard, Snohomish County Sherriff, Pierce County, Washington IMT, Department of natural Resources, and FEMA IST was outstanding.
These magnificent search canines, and their handlers, worked hard to achieve their goal to find the missing. They incurred several injuries and illnesses we treated to mitigate the condition and stay on task. It was an honor and a privilege to be a part of their care, so they could remain operational and do what they love and do best…search.
To read and/or download the rest of the survey click –>here<–